Teachers in Charge
Mdm Zahra
Mr Hoo Boon Piang
Mdm Wang Shiying
CCA Schedule
Tuesdays and Thursdays 3:00pm to 6:00pm
Venue
Indoor Sports Hall Level 2
CCA Leaders (Year 2023)
2023 Upper Sec Leaders:
Chayann Kua (4E2)
Lee Jolyn (4E4)
Yeo Xin Yu Clarice (4E1)
2023 Lower Sec Leaders:
Awards and Achievements
2019 - 2021
Top 4 in NSG East Zone Tournaments
Motto / Values
One Team, One Dream
Skills and Knowledge
Besides being equipped with fundamental ball-handling skills, all JYSS Volleyball players will learn to apply their skills at any position of play either in recreational or competitive levels of play. The trainings aim to bring players' skills progressively to the next level. Players will concurrently learn basic gameplay and be given opportunities to apply their knowledge and skills at friendlies or competitions.
Character Development
Values of good sportsmanship include teamwork, discipline, objective communication and resilience are applicable and crucial both on and off-court. Our training, first and foremost, focus on character-building and instilling these values in a safe and fun space.
Student-initiated CCA Website
https://sites.google.com/moe.edu.sg/teamjyssvb/home
Testimonials from Past and Present Members/Leaders
"Joining volleyball taught me more than just skills. It taught me to have discipline and team spirit. When we or our teammates make a mistake, we will encourage each other and say things like 'isok' and 'jiayous' . Joining the CCA also allowed me to widen my social circle and learn how to manage my time well. I hope that many juniors will join volleyball to enjoy the sport and to learn values such as resilience and discipline." #Alysha 5N1 2021
"Honestly I did not expect myself to come this far in volleyball so I am very pleasantly surprised. I am very grateful for all my teammates especially my captain, Syarafina, as she taught me a lot of things about responsibility or just how to be a leader so I am very thankful. I am also very grateful and thankful to my teammates as I learnt to be more patient and learn to keep my feelings professional." #sylvia 4E2 2022
"Volleyball has helped me be more disciplined and going for training sessions does not seem like a drag or a chore. I made many new friends from all the different classes and we all support each other and have fun during training sessions. I am proud of everyone in the CCA in trying their best and having fun together! " #chuanxin 3E2 2022
"Ever since I joined volleyball. It really changed how I really looked at it. Being able to unleash my skills that I learnt and use it well. It really impacted me both physically and mentally as I grew more stronger with every exercise that I did and also believing in myself. I also had the chance to meet new teammates and was able to bond well with them. Volleyball gave me the confidence and strength I needed to excel in whatever I do! :) " #chayann 3E2 2022
Our Journey
Team Bonding is a termly activity run by students for the students. The objective of such activities is for team to get to know each other regardless of level outside of court.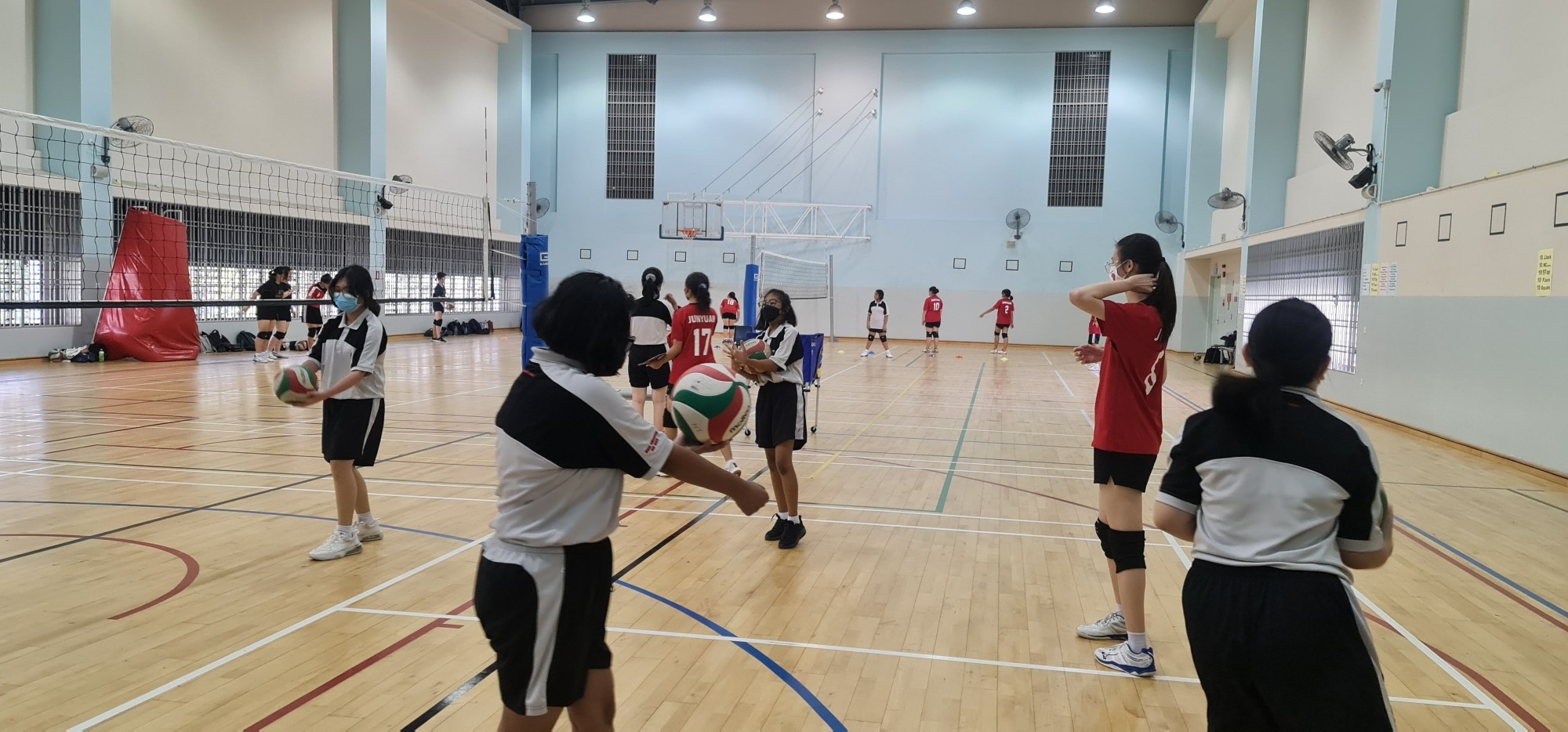 Sec 1 CCA Trials. All Sec 1 girls will be given the opportunity to try out for the CCA and no experience is needed. Some ball control skills, hand-eye coordination and grit is what we look out for.
Our seniors narrate their journey through volleyball CCA and the lessons they cherished.
Our CCA Experiences
Our East Zone Competition Journey (2021)